To contact us

Telephone: 07895889469

(Office Hours: 9.00am - 6.00pm Monday to Friday)

E-mail address: sales@stainless-feet.co.uk
Stainless Feet & Castors Ltd
15 James Watt Close
Drayton Fields Industrial Estate
Daventry
Northants
NN11 8RJ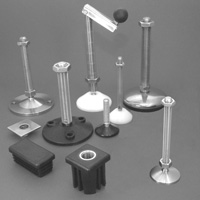 Data Protection
"Stainless Feet & Castors Ltd" is committed to protecting your privacy and we only use the information that we collect about you lawfully (in accordance with the data Protection Act 1988).
Any information received by us regarding customers details will at no time be passed on to any third parties, except with the prior permission of you.
With your consent we will at times send you product information, and offer your company special promotions. Should you not wish to receive this information we will immediately on your notification remove you from such lists. The type of information we will collect about you when you order includes: your name, address, phone number and e-mail address.
Delivery
We aim to ensure a speedy dispatch of all goods to our customers and employ various courier services to achieve this. Most items dispatched to the UK mainland should arrive within 1 working day. Deliveries of rollers may however take up to 4 days since these are made to order. Deliveries the other areas we serve may take 2 to 3 days.
We use the following shipping charges (Ex VAT) for the areas we serve:

UK mainland including England, Wales and the Scottish Lowlands = £10.00
Scottish highlands and Islands = £10.00
Isle of White and Isle of Man = £10.00

Terms and Conditions
Stainless Feet & Castors Ltd Terms and Conditions of Sale
16 James Watt Close,
Drayton Fields, Ind, Est,
Daventry
Nortamptonshire
NN11 8RJ
TeL:07895889469
Email: sales@stainless-feet.co.uk

Company Reg: 8868057
Vat No GB 179 6354 60

Website disclaimer
1. DEFINITIONS
The following definitions shall apply to the following phrases when used in these conditions:

''The Company'' means Stainless Feet & Castors Ltd
'' The Goods '' means any standard goods supplied by the company to the purchaser under contract subject to these conditions
'' The Purchaser'' means the person(s), firm or company (including the consumer) – whose order for the Goods is accepted by the Company.
''The Consumer'' means an individual who enters into a contract for purpose which is outside its trade, business or profession. The consumers will be governed by Distance Selling Regulations (DSR's)
"The Company" means Stainless Feet & Castors Ltd
"The Goods" means any standard goods supplied by the company to the purchaser under contract subject to these conditions
"The Purchaser" means the person(s), firm or company (including the consumer) – whose order for the Goods is accepted by the Company.
"The Consumer"' means an individual who enters into a contract for purpose which is outside its trade, business or profession. The consumers will be governed by Distance Selling Regulations (DSR's)
The purchaser, to whom the goods are to be supplied, are subject to these conditions:
Our Terms and Conditions apply to all contracts for the sale of Goods by the Company, any deviations are not accepted unless we expressly agreed to them in writing. They are Governed by English Law. The placing of the order will be deemed to constitute acceptance of these terms. These conditions will apply to all future contracts, written or verbal for the supply of goods.

2. QUOTES AND ORDERS
Quotes are valid for 30 days from the date of the quote. Quotations are subject to alteration and withdrawal without notice by the Company. Whilst we will make every effort to maintain prices quoted, often unexpected rises in material costs or changes in quantities ordered by the purchaser my affect prices quoted. Orders or acceptance of a quotation, are accepted by the Company, with either a written purchase order , fax or e mail and/or verbal confirmation of the order. Minimum order values are £10 ( exc. Carriage and VAT )Acceptance of the order by the Company is deemed as the Purchaser or Consumer accepting the Terms and Conditions of Sale.

3. PRICE
The price quoted upon application to the Company is exclusive of VAT. All prices quoted are subject to carriage unless the Goods are collected by the Purchaser, or Purchasers courier. The Company reserves the right to alter any of its prices at any time and Goods dispatched after the date of such alteration shall be invoiced at the rate then prevailing. Where quantities ordered vary from those quoted for, the Company reserves the right to re-quote.

4. DESCRIPTIONS, SAMPLES AND LITERATURE
All descriptions, drawings, sizes, specifications issued by the Company or published in Company literature must not be relied upon by the Buyer, as they are issued to give an approximate idea.

5. PAYMENT
Where no credit account has been opened, the Purchaser is required to pay in advance for the Goods. In order to set up a credit account the Purchaser would need to apply to the Company directly for more information.
Where a credit account has been opened the invoice for the Goods will become due 30 days from the date of the invoice. In the event that the purchaser fails to make payment by that date the Company may without prejudice to any other rights which it may have:
a) Suspend all further deliveries to the Purchaser under the contract in question or any other contract.
b) Require payment in advance for any future deliveries
c) Require payment of interest on the amount due at a compound annual rate of 3% per annum above the Bank of England Base Rate for the time prevailing from the date when payment becomes due to the actual date of payment
d) Withdraw the credit account at any time and make credit reference searches in relation to the buyer.
e) Reduce and or remove the credit limit and review on a quarterly basis.

5. DELIVERY
Unless otherwise agreed the Goods will be sent to the Purchaser by courier service and unless contrary instructions are received, the Goods will be delivered to the Purchasers place of business and or Invoice address. Therefore transport of the Goods will be subject to the couriers conditions, which are available upon request.
Any period of time or dates quoted for delivery of the Goods are approximate and will not be the essence of the contract. The Company will not be liable for any claim for any shortages, pilferage or damage to Goods unless the Company is advised within 3 working days of delivery. This is in addition to and does not affect a Consumers rights in relation to defective goods given to consumers by law. Should the Goods be returned due to incorrect ordering on the part of the Purchaser, the Company reserves the right to charge 25% restocking charge and will not refund carriage. Should the Purchaser fail to take delivery, or fail to give the Company adequate delivery instructions in advance then the Company will have deemed to have delivered the Goods, and carriage will not be refunded. The Company will not be liable for any claim for non delivery unless advised by the Purchaser within 7 days of the relevant Invoice Date. Any delay in delivery does not entitle the Purchaser to terminate the contract, unless and until the Purchaser has given a specific amount days written notice to the Company requiring delivery to be made and the Company has not fulfilled the delivery.

6. TITLE AND RISK
The Goods remain the sole and absolute property of the Company until the Purchaser has paid for the Goods in full. The Goods are insured by and at the risk of the Company until they are off loaded at the Purchases delivery address, place of business or otherwise specified address. It is then the purchaser's responsibility to insure the Goods. Purchasers right to possession of the Goods terminates if the Purchaser has failed to pay for the Goods in full or has a Bankruptcy order made against them.

7. WARRANTEES AND CONDITIONS
The warrantees and conditions contained in the Sale of Goods Act 1979 shall apply to this contract and all other warrantees and conditions whether express or implied are hereby excluded provided that:
a) The Company may vary designs and specifications or modify the Goods supplied without prior notice, provided such modifications do not adversely effect the performance of the Goods.
b)The Company shall be under no liability to the Purchaser or any third party for any consequential or economic loss or expenses.
c) The Company shall be under no liability for breach of any of the said conditions and warrantees arising from defects in the Goods unless a claim has been notified within 6 months form the date the Goods were delivered.
d) The Company may at its option either repair or replace any Goods which may be found to be defective.
e) The Company's liability for any loss or damage caused by any defect in the Goods shall be limited to the amount paid or payable by the Purchaser to the Company for the Goods.
f) Third Parties , unless the right of enforcement is expressly provided, it is not intended that a third party should have the right to any part of this contract pursuant to the Contract. (Rights of Third Parties 1999)

8. DAMAGES AND SHORTAGES
The Company will credit or replace any products that we agree are defective or damaged, free of charge and carriage free. Providing such Goods are not defective due to misuse and the Purchaser informs the Company within 3 working days of receipt. The Company does not accept liability for expenses incurred by Purchaser on such defective products or for any direct or consequential damage arising from such a defect. Misuse, can refer to using the Goods for a purpose other than specified and intended. For example using higher loads than specified in the Company literature or web site. Using on uneven floors, in extremes of temperatures, using around hazardous chemicals, rough use, impacts, foreign matter intrusions, excessive speeds or any modifications made. Shortages must also be advised to the Company within 3 working days otherwise we cannot accept claims. The Company will not be liable for any failure or delay or for the consequential loss of any failure or delay in performance of the contract if it is due to any event or force majeure, beyond the reasonable control of the company.

9. TERMINATION
The Company does not accept termination of special orders (which are defined as non standard stock items). These goods are non refundable. The Company reserves the right to terminate the contract to supply Goods should the Purchaser enter into insolvency, bankruptcy, or any arrangements with its creditors, or breach the contract.

10. LIMITATION OF LIABILITY
If the Goods are or any part there of are defective solely as a result of faulty materials or workmanship of the Company, the Company's liability shall be limited, at its discretion, either by replacing such goods or the defective part, or by giving the Purchaser credit for the value. No such liability shall arise unless notification of any defect is received by the Company within 3 working days

11. INDEMNITY
The Purchaser agrees to indemnify the Company against liabilities incurred by the Company (including damages, losses and expenses) awarded against or incurred by the Company by reason of any proceedings, claims or demand which may be made or brought against the Company: either
a) Alleging infringement of any patent copyright or other rights of third parties by reason of anything done by the seller in accordance with the Purchaser designs, specifications or instructions express or implied or
b) Alleging injury, death, loss or damage to any third party or property of third party by reason of any defect in any of the goods when the same have been supplied by the Company in accordance with the Purchasers designs, specifications or instructions express or implied

12. CONSUMERS
- GOVERNED BY DSR (Distance Selling Regulation) details upon application to the Company

13. EXPORT
- Details upon application to the Company

14. LAW
The formation, existence and construction of this contract of terms and conditions is Governed by English Law and shall be subject to the jurisdiction of English Courts